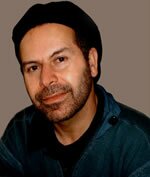 Jano Rosebiani
Writer/director
A self-taught Kurdish/American filmmaker, born and raised in the Kurdish town of Zakho in the Southern region of Kurdistan. As a Kurd under the rule of Saddam?s tyrannical regime Rosebiani?s future looked dim. In 1974, then a seventh-grader, he along with his family joined the Kurdish mass uprising and took to the mountains. Two years later he became a refugee in the United States.
Rosebiani acquired his knowledge of film making during his college years in the mid and late eighties while managing movie theaters in Washington DC and making experimental videos at a public access television. In 1995 he made his feature film debut in Los Angeles with "Dance of the Pendulum," a low budget intellectual comedy parodying sexploitation in Hollywood.
?Jiyan? (life) was his first Kurdish film shot in the US/UK protected region of Kurdistan in Northern Iraqi in 2002. Jiyan depicts life in Halabja following Saddam?s chemical and biological attack that caused 5000 lives. The film toured world festivals, winning numerous awards and critical praise, including a four star rating by London?s The Guardian, The Observer and BBC World and 31/2 stars by South Florida Sun-Sentinel. Rosebiani?s latest films are two documentaries depicting life in Iraq under Saddam?s tyranical grip, "Saddam's Mass Graves" and "Chemical Ali."
Filmography:
Dance of the Pendulum (feature film) 1995
Jiyan (Life) (feature film) 2002
Saddam?s Mass Graves (documentary) 2004
Chemical Ali (Producer) 2004
Web Site Address: www.medyaarts.com
###
(PDF Download)